Your redeveloped Shoalhaven Hospital
The $438 million Shoalhaven Hospital redevelopment has taken an exciting step forward with the Redevelopment Project Master Plan finalised.
The Redevelopment Project Master Plan features a new building for acute care services with direct connections to the existing hospital, which will undergo varying levels of refurbishment to allow for new and expanded services.
The Project Master Plan was developed based on the clinical needs of the Shoalhaven now and into the future. New and expanded services will mean more capacity for emergency and elective surgery and access to more specialised staff, equipment and technology. Health services in the region will be more self-sufficient, giving residents access to more services locally so they don't have to leave the region for treatment.
We spoke to some of our senior clinicians at Shoalhaven Hospital about what the redevelopment will mean to their services and teams. This is what they had to say:
Accordion Content
The Master Plan identifies the key elements of the hospital – such as clinical (or acute) services, specialist care units and ancillary services - and shows the space each requires and how they best connect with each other. It also identifies future opportunities for development to meet the changing health demands of the community.
It takes into account a number of factors, including site topography, existing infrastructure, functional relationship, town planning guidelines, environment, biodiversity and site access.
The Master Plan also identifies retaining the southern end of Nowra Park, including the large blackbutt tree. It is proposed that the tree will be a focal point in the overall design of the redevelopment to recognise its significance to the community.
Health Infrastructure in partnership with ISLHD are on track to commence work on the project early next year.
Accordion Content
It's a map of the site that identifies the key zones of the hospital and shows the space each requires and how they best connect with each other
The Master Plan helps to shape the ultimate design of the hospital
It helps to ensure future development on the site will link in with the redeveloped hospital and surrounding precinct
A new building will house acute services – emergency department, intensive care, operating theatres, medical and surgical wards and Mental Health
It will be directly connected to the existing hospital which will undergo varying levels of refurbishment
Future expansion of the precinct is catered for at the northern end of the site.
Note:
Master Planning meetings and workshops considered options including capacity for future expansion.
Feedback from the various groups including ISLHD staff, stakeholders and the hospital's Consumer and Aboriginal advisory committees have been incorporated into the preferred options to provide the optimal vision for our hospital and community.
To learn more about the Master Plan and the process, read our Master Plan Project Update.
Accordion Content
The redevelopment will deliver state-of-the-art medical care for residents, including a new emergency department, medical wards, dedicated Mental Health ward, cardiology wards and double the number of surgical services and operating theatres.
New Emergency Department and Emergency short-stay unit to improve patient flow and reduce wait times
New state-of-the-art intensive care unit
Theatres and endoscopy procedure rooms doubled
Dedicated cardiology inpatient ward, Coronary Care Unit and cardiology team
New vascular surgery service and expanded orthopaedic, general surgery and urology
Overnight surgical wards and dedicated day surgery ward
New medical wards for specialties including gastroenterology, respiratory, oncology, endocrinology and general medicine
New acute and non-acute Mental Health ward
Psychiatric Emergency Care Centre for emergency and crisis response collocated with Emergency Department
Acute stroke unit
New nuclear medicine department to support expanded clinical services including cancer, cardiology and respiratory care
New MRI service to provide improved diagnostic capacity
Expanded medical imaging including CT, X-ray, ultrasound and mammography to support clinical services
Aged care beds will significantly increase in a new dedicated ward
Sub-acute geriatric evaluation and management ward
Dedicated palliative care ward with significantly increased bed numbers
Specialist palliative care services for patients and outpatients and expanded community services
New maternity day assessment unit, Midwifery Group Practice model introduced
New paediatric assessment unit to provide short-stay model
Dedicated rehabilitation service for new acute stroke unit to improve health outcomes and minimise functional loss
Specialist rehabilitation for a range of conditions including stroke, orthopaedics, brain and spine injury
To learn more about the clinical services planned for the redevelopment, read our Clinical Information Sheet.
Accordion Content
Site office to be established
Function design briefing is under way – this describes how the range of services will operate and the function and design requirements of the redevelopment.
We are in DESIGN phase: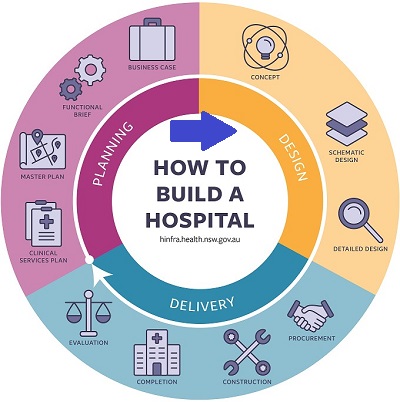 Accordion Content
We want to hear your feedback to help us inform the next stages of the project. Please click here to take a short survey.
We will use your feedback to help guide us on what is important to you and your family in your redeveloped Shoalhaven Hospital. If you would like to be involved in future stages of the project, please supply your contact details so we can get in touch with you.