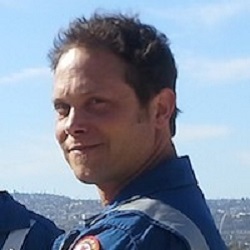 Dr.
S. Lee
Fineberg
MD, FACEP, FACEM Senior Retrieval Specialist
Dr Fineberg is an emergency physician with interests in EMS & medical education. He completed his Emergency Department training at Harbor-UCLA in Los Angeles in 1998 & a fellowship in aeromedical retrieval in Sydney in 2002. He is an ACEP Ambassador to Australia & New Zealand.
Dr Fineberg's career has spanned four continents, and has included positions as the EMS director for Hawaii, EP with one of four USAF Mobile Flying Surgical Teams (MFST) in Europe, and volunteer work in Asia & the Americas. He currently works in the Emergency Departments of Wollongong Hospital and St George Hospital, and as a Senior Retrieval Specialist with Greater Sydney Area HEMS since 2007.
He is also a Co-Founder and Co-Director of DevelopingEM - a not-for-profit organisation that provides education in pre-hospital and critical care medicine to under-resourced regions of the developing world.