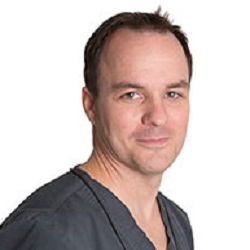 Prof.
Stuart
MacKay
BSc (Med), MBBS (Hons), FRACS, UNSW Surgeon - Ear Nose & Throat (ENT)
Professor Stuart MacKay offers general adult and paediatric ear, nose, throat and head and neck assessment and surgical services.
Prof MacKay completed his medical degree at the University of NSW in 1998, graduating with honours. His Fellowship in Otolaryngology and Head and Neck Surgery was completed in 2006.  In 2007 he completed a Fellowship in Airway Reconstruction Surgery for Snoring and Obstructive Sleep Apnoea. This Fellowship also involved further training in Head and Neck and Laryngology (Voice).
He is the Vice President of International Surgical Sleep Society, on the clinical committee of the Australasian Sleep Association, a reviewer for Sleep and Breathing, Laryngoscope and AJO and holds Chief Investigator status on NH+MRC and Garnett-Passe funded grants.
Prof MacKay  has an honorary clinical professorship with UoW, a fellowship with UWA and has trained recent ENT fellows to establish Sleep Surgery practices as leaders throughout Australasia.