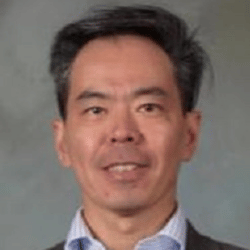 Dr.
James
Chen
MBBS FRANZCR Staff Specialist – Radiation Oncologist
Dr Chen is a Senior Staff Specialist Radiation Oncologist. He completed his specialist training in Wollongong and Royal Prince Alfred Hospitals in 2009 and went on to complete post-graduate fellowship subspecialty training at Royal Prince Alfred Hospital and the National Medical Health and Research Council Clinical Trial Unit (COGNO).
Dr Chen's specialist areas of interest include central nervous system tumours, gynaecological, colorectal, head and neck and breast cancers and melanoma.
Since joining the team at the Illawarra Cancer Care Centre in 2011 Dr Chen has been active in training and teaching Radiation Oncology trainees.
"I held the position of Director of Training at Wollongong Hospital between 2011 and 2016. I am also a current college examiner for the pathology component of our training".
Dr Chen speaks Mandarin and holds professional associations with both the Royal Australian and New Zealand College of Radiologists (RANZCR) and the Trans Tasman Radiation Oncology Group (TROG).