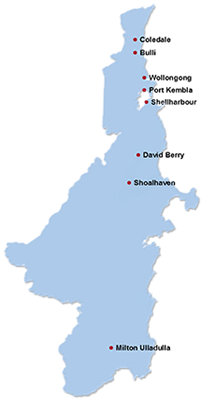 The Illawarra Shoalhaven Local Health District (ISLHD) provides health services for the residents of the Illawarra Shoalhaven region – around 400,000 people. This catchment covers the Wollongong, Kiama, Shellharbour and Shoalhaven Local Government Areas.
ISLHD is one of the region's largest employers with a workforce of more than 8,500 staff. We operate eight hospital sites and provide community health services from approximately 58 locations across the region.
Our Vision: 
Excellent services, quality partnerships, healthy communities
Our Purpose: 
To provide best practice health care and programs that promote the health and wellbeing of people in the Illawarra Shoalhaven.
Our Values: 
Collaboration, Openness, Respect, Empowerment