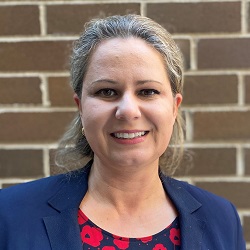 Dr.
Glaucia
Fylyk
MD FRANZCR Staff Specialist - Radiation Oncologist
Dr Fylyk joined the Radiation Oncology team in our Local Health District in 2017. Now based in the Illawarra Cancer Care Centre, Glaucia spent three years managing patients in the Shoalhaven Cancer Care Centre.
Glaucia commenced her medicine studies in Brazil before moving to Australia and completing her postgraduate medical training at Royal North Shore and Prince of Wales Hospitals in Sydney. She then completed her Radiation Oncology training at Wollongong Hospital, continuing to work locally after gaining her Fellowship. Glaucia has a particular interest in breast, gastrointestinal, head and neck, skin cancers and melanoma.
In addition to seeing patients Glaucia has a strong focus on education and training and is currently Director of Training at Wollongong Hospital, allowing her to support and mentor radiation oncology trainees.
"I have a passion for improving patient outcomes and advocating for better access to quality health care".
Glaucia is a member of muliple professional associations including the European Society for Radiotherapy and Oncology (ESTRO), American Society for Radiation Oncology (ASTRO) and Trans-Tasman Radiation Oncology Group (TROG).