Public Health Advice for Bushfire-Affected Areas
9 January 2020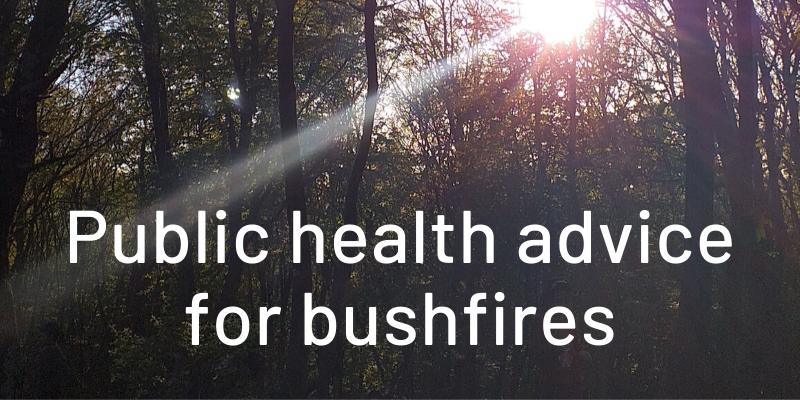 Illawarra Shoalhaven Local Health District (ISLHD) is providing important health information and advice to South Coast community members currently in, or returning to, areas impacted by the bushfire emergency. 
ISLHD Director Public Health, Curtis Gregory is reminding residents and their families to take extra precautions when returning to homes and properties affected by bushfires.  
"Residents returning home after bushfires should first check with local emergency services to see if it is safe," Mr Gregory said.
"Burnt houses, sheds or other structures can leave behind health hazards including fallen or sharp objects, smouldering coals, damaged electrical wires, leaking gas or weakened walls," he said.
When returning home people are reminded to:
Wear protective clothing, including sturdy footwear, heavy-duty work gloves, disposable coveralls and P2/N95 face masks;
Throw out all fire-damaged or heat-affected food; 
Do not drink or give animals water that tastes, looks or smells unusual; and
Do not spread or disturb ash around your property, particularly if treated timber was burnt in the fire.
Residents with rainwater tanks should also be aware of specific advice around their use following a bushfire.
"Bushfires generate large amounts of smoke and ash, and your tank water could have become contaminated from debris and ash or dead animals. If the water tastes, looks or smells unusual do not drink it or give it to animals," Mr Gregory said.  
Further information on managing rainwater tanks after bushfires is provided at Rainwater tanks and bushfires and Fire retardants and private water sources.
Returning to property and bushfire affected areas may be stressful and exhausting. For mental health support call the NSW Mental Health Line on 1800 011 511 or Lifeline on 131114. For practical assistance call the Disaster Welfare Assistance Line: 1800 018 444.
The community is reminded to take extra care of their health while smoke continues to impact our local area.
"People who are at greater risk from bushfire smoke include those with heart or lung disease, such as asthma or emphysema, the elderly, young children and pregnant women," Mr Gregory said.
Steps to reduce your exposure to bushfire smoke include:
Follow your doctor's advice about medicines and your asthma management plan if you have one. Keep your medication close at hand. Consult your doctor if symptoms worsen.
Monitor air quality and follow health messages at NSW Department of Planning, Industry and Environment - Air Quality Index (AQI) data.
Avoid vigorous outdoor activity.
Spend more time indoors. Keep doors and windows shut to keep the smoke out. Open windows and doors whenever the smoke clears.
Spend time in air conditioned venues like cinemas, libraries and shopping centres.
Avoid indoor sources of air pollution like cigarettes, candles and incense sticks.​​​
NSW Health is also distributing 1 million Commonwealth-provided P2 masks to hospitals, health facilities, recovery and evacuation centres and pharmacies in affected areas. When used correctly, P2 masks can filter out fine particles, however they require an extremely good fit to work properly and are not suitable for everyone. Visit the NSW Health website for more information, including an instruction video, on how to fit a P2 mask.
"Those at risk from heat stress are similar to bushfire smoke but also generally include those with a chronic disease or already sick, such as kidney disease or currently suffering from gastroenteritis; people who live alone or may be socially isolated; and those working in a hot environment. If you are unsure whether you are at risk, discuss it with your GP," Mr Gregory said.
"The community are reminded to be prepared for extreme heat and put appropriate plans and precautions in place to ensure you keep cool and stay hydrated," he said.
Advice for staying safe in the hot weather includes:
Avoid the heat of the day by staying indoors and keeping cool by using air conditioning, fans and drawing blinds and curtains closed
Keep hydrated by drinking plenty of water
Check on vulnerable neighbours, friends, and family by telephone or in person if it is safe to do so
Plan ahead for hot days. 
People showing severe signs of heat-related illness should seek urgent medical attention and in an emergency situation, call Triple Zero (000).
NSW Health's Beat the Heat resources have more information about staying safe in hot weather.
For more health information for the NSW bushfires go to: https://www.health.nsw.gov.au/environment/air/Pages/bushfire-smoke.aspx