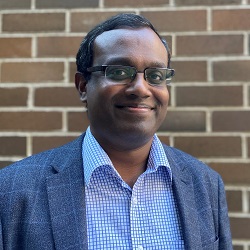 Dr.
Senthilkumar
Gandhidasan
MBBS MPH MHI FRANZCR Staff Specialist - Radiation Oncologist
Senthilkumar (Senthil) completed his undergraduate medical degree in India in 2002 and moved to Australia in 2004 to complete postgraduate study (Master of Public Health and Master Health Informatics) at the University of Wollongong. Senthil completed his Radiation Oncology training at Liverpool Hospital, Sydney in 2015 and later completed fellowships at Peter MacCullum Cancer Centre, Melbourne and the Cleveland Clinic, USA. Senthilkumar recieved specialised training of stereotactic radiotherapy from world leaders in the field to treat lung, brain, spine, prostate, kidney, liver and pancreatic tumours.
Senthil commenced in our Local Health District in 2017 and established and now leads the Stereotactic Ablative Body Radiotherapy (SABR) program. He is committed to the growth and development of Radiation Oncology services in the area and runs clinics in both Wollongong and Shoalhaven. Senthil has a particular interest in central nervous system, breast, prostate and lung malignancies and is an active member of these tumour streamed mulitidiscliipinary team meetings. Senthil has authored mulitpe peer review publications and book chapters, with presentations at national and international conferences. He is an investigator on several international and national clinical trials, and keenly offers these to patients where possible.
Senthil is involved in the education of medical students, junior medical officers and radiation oncology trainees. He is an Honorary Senior Lecturer with the Graduate School of Medicine, Univeristy of Wollongong and he oversees the oncology rotation of students. Senthil is also a Phase 1 examiner for the Royal Australian and New Zealand College of Radiologists and an examiner for international medical graduates undertaking the Australia Medical Council Workplace Based Assessment.
Senthil speaks Tamil and has lived and studied across five countries (USA, West Indies, Middle East, India and Australia).
"After living in different parts of the world I was drawn to the Wollongong region for its friendly people, great weather, low traffic and proximity to the beach and Sydney."
In his spare time Senthil enjoys travelling, reading and spending time with family and friends.