Vaccine rollout begins in the Shoalhaven
24 March 2021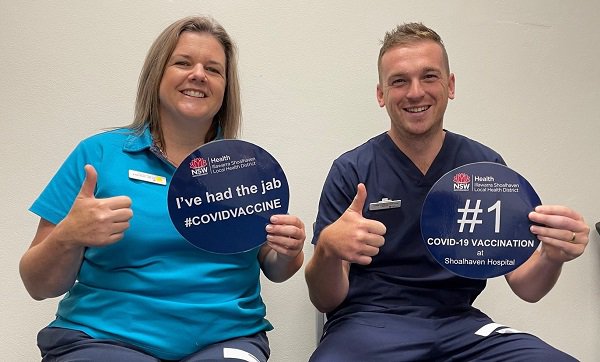 Illawarra Shoalhaven Local Health District's third COVID-19 vaccine clinic has opened at Shoalhaven Hospital, with frontline health care workers rolling up their sleeves to receive the first jabs this morning.
Shoalhaven Hospital is one of the latest hospitals in NSW to be set up to provide Pfizer vaccinations to health staff as part of the vaccine rollout. The Wollongong Hospital vaccination hub opened on Monday 15 March, followed by the Shellharbour Hospital clinic which started its first vaccinations this Monday.
Emergency Department nurse Matthew White (pictured) was the first person to receive the vaccine at the Shoalhaven Hospital.
"My role sees me come into contact with many different patients on a daily basis, so I am relieved to finally be able to get the vaccination and do my bit to help protect them and myself from COVID,'' Mr White said.
"Also, as a proud Budawang man from the Yuin Nation, I was excited to have the vaccination to show to my family, my mob and my local community that getting vaccinated is safe.
"Aboriginal and Torres Strait Islander Peoples are an at-risk group when it comes to COVID-19, and being vaccinated is the best thing you can do for yourself and your community.''
Intensive Care Unit physiotherapist Kristine Arandale (pictured) who also received one of the first doses at the new hub said the decision to be vaccinated was easy.
"This is a big step forward for those of us on the frontline during the pandemic. I believe this will assist me to continue caring for patients, especially our most vulnerable in ICU and I am happy for my turn to receive the vaccination."
ISLHD Executive Director Nursing & Midwifery and Clinical Governance, Deborah Cameron said opening the clinic in the Shoalhaven is an exciting step forward for our local rollout of the vaccine.
"It's great to have the Shoalhaven clinic come on board today, joining Wollongong and Shellharbour in providing those with the greatest risks of potential exposure to COVID-19 access to the vaccine as close to their homes as possible," Ms Cameron said.
The Wollongong Hospital vaccination hub has also commenced rollout of the vaccine to satellite sites in Southern NSW.
"We had our first team travel to Cooma Hospital last week, where they joined Southern NSW Local Health District nurse immunisers in providing the vaccine to local staff. We have another team travelling to Goulburn this week and will be providing further outreach to additional sites in the coming weeks, as well as to Milton in our own District," Ms Cameron said.
NSW is working closely with the Australian Government to implement a safe and effective COVID-19 vaccination program. For more information about COVID-19 vaccination in NSW, visit the NSW Health website.