Focus on Biobanking to aid cancer research
10 September 2018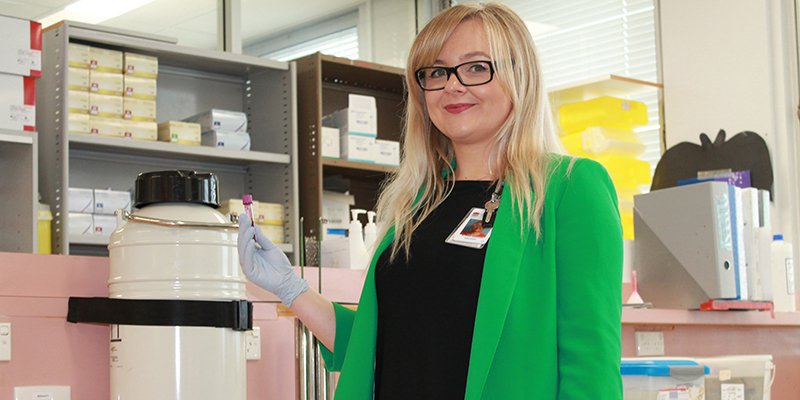 Illawarra Shoalhaven Local Health District (ISLHD) has expanded its focus on Biobanking, with the appointment of a newly created full-time position of Oncology Biobank Manager, based at Wollongong Hospital. This role organises the collection of biological samples – primarily tissue and blood – for the Centre for Oncology Education and Research Translation (CONCERT) Biobank, from patients within ISLHD who have been diagnosed with cancer.
The CONCERT Biobank was established in 2012 as an open-access, multiple collection site facility providing high quality, and standardised biospecimens with health data, accessible to all cancer researchers in NSW.
It is part of a non-profit group funded by the Cancer Institute NSW (CINSW) through the CONCERT Translational Cancer Research Centre (TCRC), which is headquartered at the Ingham Institute for Applied Medical Research (IIAMR).
The CONCERT TCRC is a large multi-institutional group of hospitals and local health districts (South West Sydney and Illawarra Shoalhaven) partnered with universities (UWS, UNSW, and University of Wollongong), medical research institutes (IIAMR and Illawarra Health and Medical Research Institute), and many collaborative links spanning across NSW.
ISLHD Oncology Biobank Manager, Ashleigh Splitt said the Biobank allows patient tumour and blood samples to be used to research the genetic, lifestyle and environmental factors linked to cancer.
"These findings are then translated into new ways to prevent, detect, diagnose and treat different types of cancer," she said.
"More than 1,500 patients have donated so far to the CONCERT Biobank, resulting in more than 20,000 biospecimens. Of these, more than 350 patients are from ISLHD, donating around 5000 samples. The CONCERT Biobank currently supports 31 cancer projects and plays an active role working with hospitals to establish more biobank collections within the region."
It is hoped that an increased focus on oncology Biobanking in the Illawarra Shoalhaven will see more patients and staff involved in the Biobanking program, which provides essential support to global cancer research.
The process is very simple: once surgeons are signed up to the project they can identify patients who are good candidates. Patient consent is obtained, with everything organised before the day of surgery.
During surgery, blood is collected, which is prepared and stored. The tissue samples are sent to pathology where the pathologist selects all of the tissue required for routine clinical diagnosis. Following this, the Oncology Biobank Manager collects the biobank part of the tumour sample, and prepares it for biobanking.
A patient's participation in the Biobanking project makes a valuable contribution to cancer research. For more information on the CONCERT Biobank or to get involved:
biobank.inghaminstitute.org.au