ISLHD Celebrates World Breastfeeding Week
30 July 2020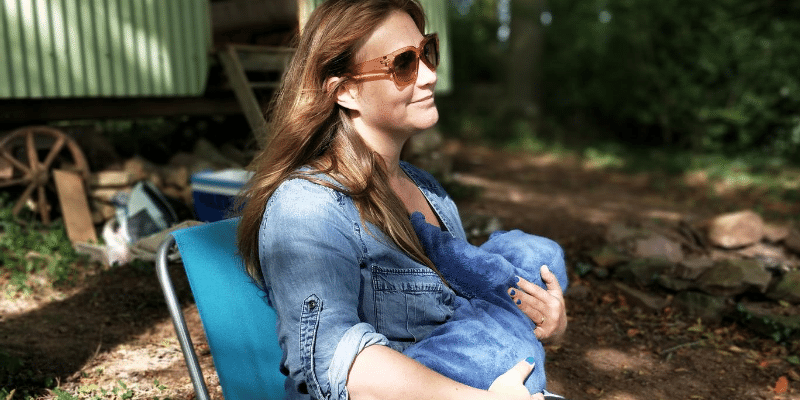 During World Breastfeeding Week (1 – 7 August) Illawarra Shoalhaven Local Health District (ISLHD) is promoting the importance of breastfeeding and letting women and their families know where they can seek local support and assistance.
ISLHD Clinical Midwifery Consultant Lactation Support, Linda Deys said that breastfeeding provides all the essential needs for a baby's growth, development and protection from illness and disease.
"Exclusive breastfeeding, with no other milks, food or drinks, until around six months followed by continued breastfeeding with family foods up to 12 months and beyond have the most benefits for mother and baby," Ms Deys said.
"Breastfeeding support for women has remained a priority throughout the COVID-19 pandemic. Our Hospital and Child and Family Health staff have developed new ways of providing services at this time in order to ensure that local women can continue to be supported in their infant feeding choices.
"Face-to-face care and education have been supplemented with telephone and virtual appointments and group workshops. Staff education has also continued, using technology, so that we can continue to provide evidenced-based care for families," she said.
The 2020 World Breastfeeding Week theme is Support Breastfeeding for a Healthier Planet, highlighting the links between infant feeding choices and the environment. Breastfeeding means less waste in landfill, less water and energy consumption and reduced carbon emissions.
"Breastmilk is a sustainable resource that provides nutrition for infants and young children and protects the health of mothers and babies over their lifetime," Ms Deys said.
Four ISLHD staff members are undertaking specialist breastfeeding training to support families – Child and Family Health Services nurses, Michelle Smid and Amanda Ritchie; Binji and Boori Shellharbour midwife, Tamara Blanch and midwife, Rosemary Mcilgorm have designed artworks around this year's WBW theme as part of their study and to provide some examples of the positive impact breastfeeding can have on the environment. See photos below. 
"While the need to maintain physical distancing means that the District will celebrate World Breastfeeding Week differently this year, staff will still be promoting this important awareness week by wearing WBW t-shirts, decorating work areas and sharing virtual afternoon teas," she said.
For information on feeding your baby visit the ISLHD website maternity page.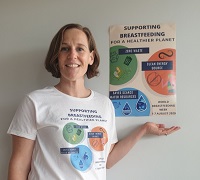 Amanda Ritchie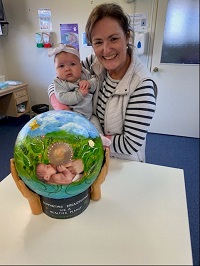 Michelle Smid with baby Ava, 4 months, at Albion Park ECHC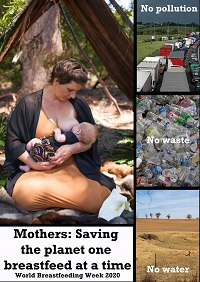 Poster - created by Tamara Blanch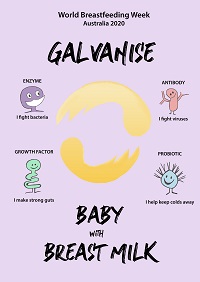 Poster - created by Rosemary Mcilgorm