ISLHD team wins at Multicultural Health Communication Awards
6 September 2019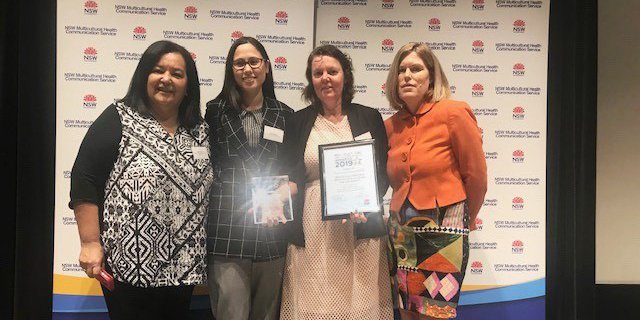 The Illawarra Cultural & Linguistically Diverse (CALD) Local Drug Action Team, in partnership with Illawarra Shoalhaven Local Health District (ISLHD) has developed new film resources to assist community members from new and emerging language backgrounds and their families to understand how to access drug and alcohol information and support.
The resources were announced as Winner in the 2019 NSW Multicultural Health Communication Awards in the category of Patients and Consumers as Partners at NSW Parliament House on September 2.
Di Woods, Health Education Officer for ISLHD Drug and Alcohol Service and chair of Illawarra Cultural & Linguistically Diverse Local Drug Action Team said the contribution of the local community helped make the resources so successful.
"Recognising that our community members are experts in their own culture and working together with them has underpinned the success of these resources. Community members shared the messages that were most important to them and ensured that the resources were culturally appropriate, they also volunteered as actors for the resources," she said.
"Community members from a range of different cultures volunteered to be a part of this project. They strongly believed that the films would reduce stigma when seeking help and would start robust conversations about this topic within their communities," Di Woods said.
The Illawarra CALD Local Drug Action Team (LDAT) is a coalition of community members and a unique mix of community and government services who have come together to reduce drug or alcohol related harm. A range of ISLHD services support this team which includes Drug and Alcohol, Health Care Interpreter Services and Multicultural Health teams.
The Illawarra CALD LDAT's focus is to build and extend partnerships in the community; and to use local knowledge to deliver evidence-informed alcohol and other drug harm prevention and minimisation activities tailored to the needs of the local area. This collaboration has also attracted state-wide services who also focus on the co-design approach that the group has embraced.
While research indicates that the use of alcohol and other drugs is generally lower in culturally and linguistically diverse communities compared to the general population, this situation is not universal. Drug and alcohol issues may emerge in newly arrived communities as the stress of re-settlement, unfamiliar cultures and the pain associated with loss can lead to negative feelings, depression, anxiety and loneliness. 
The films have been locally produced but are set to be used across NSW. They were launched locally on August 20 at the Warrawong Gala Cinemas in the lead up to Multicultural Health Week. You can view the films on our YouTube channel.