Palliative care volunteers making a difference
17 May 2023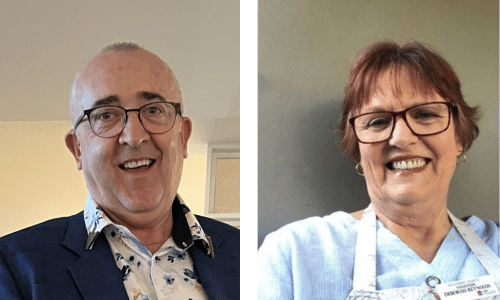 During Volunteer Week (15-21 May), Illawarra Shoalhaven Local Health District (ISLHD) is shining a light on the incredible people who volunteer within our palliative care services.
Palliative care volunteers provide a range of supports to help patients, their carers and families in the District. This can involve hospital or home-based patient and carer support, assistance and respite.
Illawarra Volunteer Coordinator, Cynzia Dei-Cont, said volunteers are a diverse group with varied skills, life and work experiences and backgrounds, who are inspired to make a meaningful difference, as well as meet new people.
"What all our palliative care volunteers have in common is their dedication, empathy and compassion - all of which are essential to the role. Palliative care volunteering enables people to contribute to the emotional wellbeing of patients and their families at one of the most significant times of life,'' Ms Dei-Cont said.
Shoalhaven Volunteer Coordinator, Elanne Thompson, said Palliative Care volunteering also makes a big difference to the volunteer's own life, by creating a sense of purpose, focusing on gratitude, and learning about dying with dignity.
"Volunteers play a fundamental role in our District; they are incredibly generous with their time and give back to our community in such a profound way. Volunteers all talk about what they receive in return from connecting in this way. It is one of the most rewarding volunteer choices anyone can make,'' Ms Thompson said.
Community volunteer, retiree Neville Bryce, has only been volunteering since March, but said he was already finding the role incredibly rewarding and had high praise for the training he received.
"Being involved with people in terms of grief and bereavement, being able to connect with people at that time, is very humbling and honourable,'' Mr Bryce said. I am really impressed with the quality of training the Local Health District provided. We heard from a range of genuine experts and the palliative care team. I felt well prepared and fully supported.''
Deb Reynolds began volunteering at David Berry Hospital's Karinya Palliative Care Unit about six years ago. She spends time on the ward as well as doing Bereavement Companioning - connecting with people who are grieving.
"Listening to people sharing stories about their life is really the most amazing thing - it's hard to define. It is a privilege and an honour to be with people at the end of their lives,'' Ms Reynolds said.
To learn more about volunteering with the ISLHD Palliative Care Service, call: Illawarra Volunteer Coordinator - 0439 443 387 or Shoalhaven Volunteer Coordinator - 0428 113 492. Training will be provided.