Transformation delivered in $2.2m Birthing Unit redevelopment
10 July 2020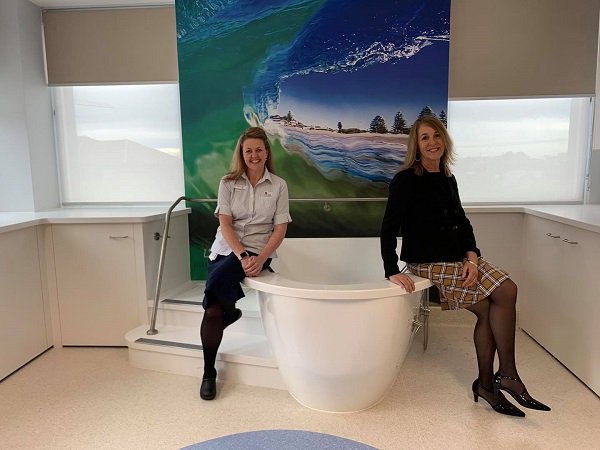 Wollongong Hospital's newly refurbished Birthing Unit will start welcoming babies into the world from next week. The $2.2 million Birthing Unit redevelopment has seen the area transformed into a modern and more functional birthing space for local women and families.
ISLHD Chief Executive Margot Mains said the unit was unveiled today and the process of transitioning to the new area has commenced.
"The Hospital's Birthing Unit was last refurbished two decades ago and over that time more than 40,000 babies were born, so this refurbishment is very much welcomed by all,'' Ms Mains said.
"The space is fresh, contemporary and very welcoming. Most importantly, it now better supports modern birthing standards and choices for local women.''
ISLHD Board Chair Professor Denis King OAM said the project was able to proceed after Health Minister Brad Hazzard agreed to allocate additional funding of $2.2 million last year for the extensive refurbishment.
"I am delighted that Wollongong Hospital not only has amazing staff providing excellent care, but they are now able to support women in a more functional and modernised birthing unit,'' he said.
"Together with our hardworking and dedicated midwifery and maternity staff, this unit will provide exceptional care to the more than 3,000 women who give birth at the hospital each year and meet the growing needs of our local community.''
Ms Mains said the Hospital has worked closely with a number of consumer advocacy and support groups, including Better Births Illawarra, to ensure local women had input into the new design.
"I would like to thank the dedicated consumers who've volunteered their time and effort to support this redevelopment so that local mums and their families can benefit for years to come," she said.
Work has included remodelling assessment areas and bathrooms, waiting spaces have been enhanced to facilitate an improved flow through the unit and the colour scheme is inspired by nature to provide a calm setting. Space has been maximised in each room and additional baths better support women who would like to use water immersion to support birth.        
"We want to make birthing mums as comfortable as possible and improving their surroundings will hopefully contribute to a better birthing experience for them and their families," Ms Mains said.
The 2019-20 budget for Illawarra Shoalhaven Local Heath District (ISLHD) was $998 million, an increase of $40 million on the previous year's annualised budget. ISLHD will also benefit from the NSW Government's $2.8 billion commitment to recruit a record 8,300 frontline health staff over the next term, including 5,000 additional nurses and midwives.