Patient well-being assisted with pet therapy
4 December 2017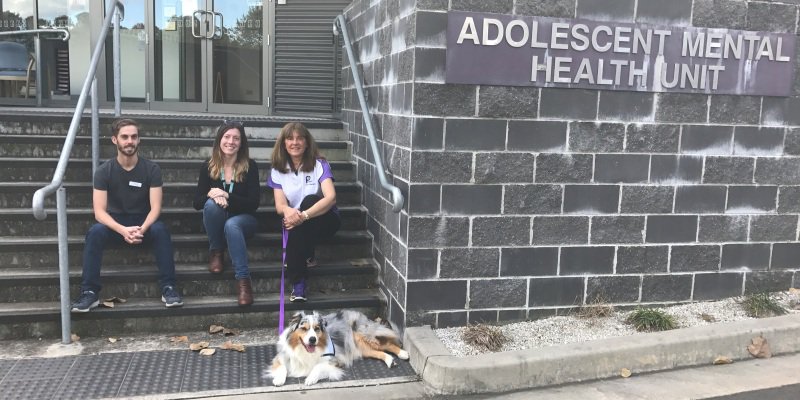 Shellharbour Hospital's Adolescent Mental Health Unit caters for young people aged 12-18 years who experience mental health concerns. Staff at the unit recently decided to incorporate pet therapy into its weekly program.
Adolescent Mental Health Unit Occupational Therapist, Rachael Wade said pet therapy has a developing worldwide evidence-base for use in general medicine and psychiatry, which suggests animal-interventions foster socialisation and connectedness, enhance self-soothing skills and destigmatise mental health.
"Pet therapy uses a compassion orientation that enables emotion regulation, which is important as admissions can be confronting," Ms Wade said.
The Unit works with PAWS, a not-for-profit agency which provides trained volunteers and therapy dogs who have undergone rigorous behavioural and health checks. Adolescent Mental Health Unit Registered Nurse, Nathaniel Boulton said a regular one hour program can include a group walk, selfcare education via grooming or massaging the animal, interactions with pets, and education on topics related to mental health.
"It also provides a valuable opportunity to engage with young people who are withdrawn or disengaged," Mr Boulton said.
PROJECT FINDINGS
Consumers were asked to complete an evaluation after each pet therapy session. Emotions such as anger, sadness and fear all reduced significantly, which demonstrated evidence of ongoing usefulness in adolescent mental health. The visits also created a positive culture, and some young people and their families began to use their own pets in care planning.
Pet Therapy Project results:
92 per cent rated the intervention as beneficial to their mental health
80 per cent rated the intervention as helpful in increasing their engagement/socialisation with others
78 per cent reported that the intervention helped distract their thoughts, and
54 per cent stated it helped with self-soothing
The inpatient team is currently using the data to inform future practice and encourage other inpatient units to facilitate Pet Therapy for their consumers benefit.