Ready for COVID Care through Innovation
3 June 2020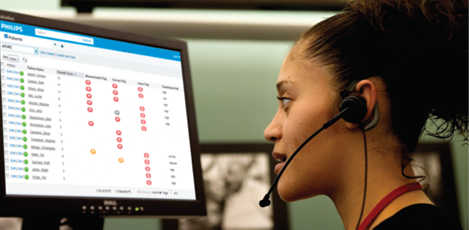 An innovation partnership involving the region's three major health services is ready to be trialled, providing local residents with access to a Virtual Community Care Centre. The Illawarra Shoalhaven Local Health District, Southern NSW Local Health District and COORDINARE – South Eastern NSW PHN have joined forces to prepare the first collaborative, cross-regional virtual care approach in NSW.
The technology will enable clinical teams to extend tailored patient care when required, across a large geographic boundary.
Illawarra Shoalhaven LHD Chief Executive, Margot Mains, said this would assist COVID-19 patients at home by providing increased opportunities to be assessed, while staying in touch with a multidisciplinary team which includes their GP.
"If someone tests positive, the Virtual Community Care team will assess them to determine the best individual treatment plan in close collaboration with the patients' local GP," she said.
As part of Virtual Community Care, the patients will receive a Health Care kit containing tools to check their blood pressure, blood oxygen levels and temperature. The kit contains a small computer tablet to record results so these can be sent wirelessly to the team for assessment. The tablet will also enable video conferencing with the Virtual Community Care team to discuss symptoms, seek guidance on the tools and be reassured that they are being cared for while still in their home.
Southern NSW LHD Chief Executive, Margaret Bennett, said she was delighted that the community would now benefit from virtual technology that supported our ability to provide care and advice for people in their own home.
"This includes checking wellbeing, monitoring vital signs and supporting fast access to the appropriate medical care if people deteriorate," she said.
Virtual care will be provided from initial enrolment following a positive COVID-19 result, throughout isolation and until the person meets the Public Health criteria for clearance.
The Virtual Community Care team will:
Enhance the sense of security for patients while reducing their sense of isolation
Assist people in home isolation to access the right level of care at home and reduce the impact on our hospitals
Enable earlier identification if a patient does deteriorate
Provides rapid and scalable monitoring of patients in their home following a diagnosis of COVID
Transition to assist with other illnesses after COVID.
This is a cross-District partnership between the Illawarra Shoalhaven and Southern NSW Local Health Districts and COORDINARE - South Eastern NSW PHN, to install a new virtual care platform, provided by Philips, that uses state of the art remote, wireless technology to provide specialised care for people with COVID-19, and later for a variety of patient groups including those with chronic or complex health issues.