ISLHD is committed to improving the physical, cultural, spiritual and family well-being of Aboriginal people to reach their full potential.
The District has a philosophy that Aboriginal Health is Everybody's Business. 
The Aboriginal Health Strategy unit  leads our approach to developing strategies and policies to ensure that our services are Culturally Safe and Welcoming, and of a high quality for  Aboriginal people and their family.  All ISLHD policies, programs and strategis require an Aboriginal Health Impact assessment which systematically applies an 'Aboriginal health lens'  to improve the health and well-being of Aboriginal people.
The delivery of Respecting the Difference Cultural Awareness training to staff creates an awareness of the barriers that Aboriginal people face when accessing health services and provides information to assist in delivering the best quality care that respects the cultural values of Aboriginal people.
We are committed to improving Aboriginal employment opportunities across the District through the use of employment pathway programs to build a vibrant, skilled and professional Aboriginal workforce.    
Aboriginal Health Workers (AHWs) are employed across a range of Hospital and Community Health programs and services.  The District employs an Aboriginal Family Health Co-ordinator, an Aboriginal Mental Health Clinical leader and an Aboriginal Healthy Hearts project manager that lead specific strategic programs to improve outcomes across mental health, violence prevention and better cardiac care.  
Statement of Commitment to Aboriginal people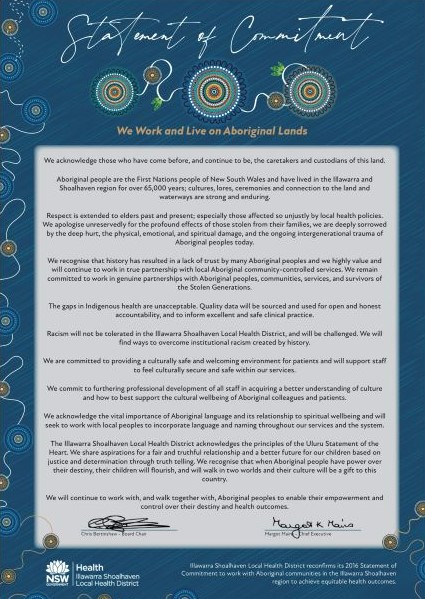 Click image to view PDF