NSW Health has created a useful guide to prepare you for your stay in hospital. Read here for more information.
If you or your loved ones have any concerns or questions about your care contact the ward at any time.
Accordion Content
You can have an interpreter if you speak another language, including AUSLAN. This is a free service and is available seven days per week. Translation services can be provided in person or by phone. The Health Care Interpreter Service is available 24/7 and can be contacted on 1800 24 72 72.
Accordion Content
Principal Aboriginal Health Workers (PAHW)
PAHWs provide emotional, social and cultural support to Aboriginal and Torres Strait Islander patients and their families admitted to hospitals within the Illawarra Shoalhaven Local Health District. If you require further information or you would like to speak with the Principal Aboriginal Health Worker, please let your nurse know.
For more information, visit our District Aboriginal Health page. 
Accordion Content
Give your healthcare provider as much information as possible about your health, including any allergies, medical conditions or disabilities. Tell them if you use other medicines or remedies and whether you smoke, use alcohol or other recreational drugs. Tell your healthcare provider:
About any changes to your condition and any reactions during treatment
If you are being treated for the same problem by someone else
If you do not understand why you have been referred for tests or treatments
If religious or cultural beliefs make it difficult to have treatment
If you want to be treated as a private patient and ask for an estimate of the costs
If you have made a decision not to follow treatment advice and not attend appointments
You will be regularly asked to confirm your name, date of birth and other details before any procedure or surgery and whenever you are transferred to another service for care. This ensures that you are correctly booked in for the right procedure by the right person at the right time throughout your treatment.
Accordion Content
During your hospital stay, the hospital pharmacy will supply you with medications. When you come to hospital please bring your medications or a list from your General Practitioner or Pharmacist of your current medications.
To avoid complications, once your doctor or the nurses have given you medications please do not take your own medications. It's important that you tell the staff everything you are taking. If you are already taking other things such as non-prescription drugs, vitamins or natural therapies when you come to hospital, make sure you tell the staff.
Accordion Content
You can have a relative, carer or other support person to help you communicate with health professionals but you must agree to that person being involved in your affairs.
NSW Health recognises that sometimes your support person may be under 18 years of age. We respect the role of younger carers. They will be included in your treatment and ongoing care and given information on where to get support.
We also recognise that people with disabilities have a range of support needs. In this case, family members, carers and other support people may be asked to assist you and the healthcare staff.
However they are not obliged to help. You will also be asked to provide the name and contact details of the person who can give consent for procedures if at any time you are too ill to give that consent yourself.
Accordion Content
Sepsis is a life-threatening condition that arises when the body's response to an infection damages its own tissues and organs. Sepsis is also a medical emergency, requiring rapid treatment to increase a patient's chance of survival.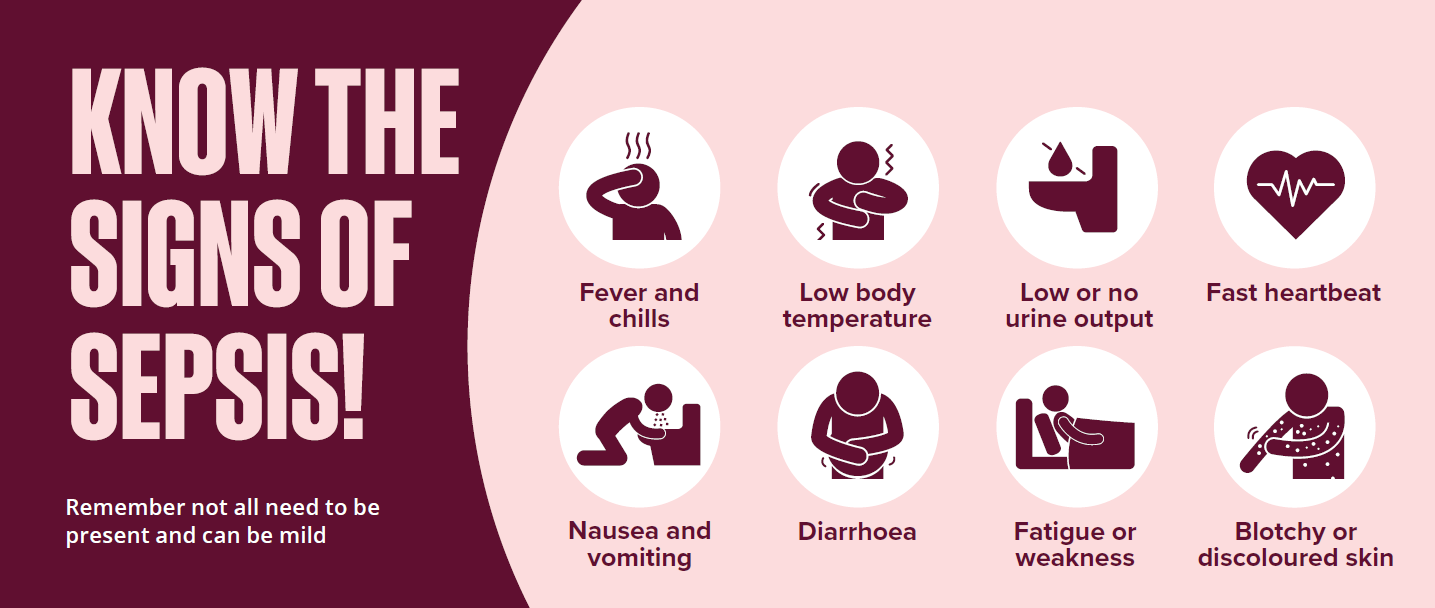 If you think you or your loved one might have sepsis, go to your nearest emergency department. After talking to the triage nurse, if you are still worried, ask for a clinical review. This should take place within 30 minutes and is usually attended to by the person in charge of the ward or emergency department. If you are still worried, make a REACH call.
For more information about sepsis:
Accordion Content
You have the right to seek a second opinion on treatment that has been recommended for you. Depending on the nature of your condition the health service will provide advice on the availability of an alternative medical practitioner.
Accordion Content
Consent is an agreement between you and your healthcare provider. Your healthcare provider will ask you to give your consent before you have any test, treatment or procedure they are recommending for you. The only exception is in an emergency or situation to save your life.
Shared decision making for consent is when you work together with your doctor or healthcare provider to decide whether to have or not have, a test, treatment or procedure that is being recommended for you. Information about healthcare tests, treatments and procedures can be complicated, and you may want to involve a support person – like a family member, carer or friend.
Your healthcare provider may give you information that you don't fully understand. You can ask questions at any time and ask for information to be repeated or written down. It is a good idea to think about the questions to ask your healthcare provider before your appointment
Accordion Content
My Care Boards are located near patient beds. They are a tool we use on hospital wards to support communication and shared decision-making between staff, patients, their families and carers.
Information about how to use your My Care Board is in the brochure and the video below.
Note: the video is also available in the languages Arabic, Cantonese, Italian, Macedonian, Polish, Portuguese, Serbian, Spanish, Turkish and Vietnamese.
Accordion Content
As a patient, client, carer, family member, consumer or visitor of the Illawarra Shoalhaven Local Health District, you have a number of rights and responsibilities. Click here for details.
Accordion Content
Four pairs of pyjamas/nightgowns (labelled with your name)
Dressing gown and slippers (non-slip sole)
Toiletries (soap, toothpaste, toothbrush, hairbrush/comb, razor, tissues)
Small amount of money (for phone, newspaper, etc)
Current medications/list (these will be returned to you before or when you go home)
Glasses, hearing aids and non-electric walking aids
Any correspondence from your doctor
Relevant Xrays and scans
Medicare card
Private Hospital fund card/book, Veterans Affairs Repat Card, details of workers compensation, public liability or third party case (if applicable)
Accordion Content
Valuables (jewellery, large amounts of money)
Radios, iPods, MP3 players without headphones
Electrical appliances (including electric shavers)
Pot plants
Large bags or excessive clothing
Alcohol or illegal drugs
Video games
Valuables
Theft does occur in hospitals
The hospital cannot accept responsibility for your possessions if they are lost or stolen. For your own protection please leave them at home, or if you must bring them with you, ensure they remain in the keeping of a trusted person at all times. Alternatively you may have some valuables locked in the hospital safe - please see ward staff for more information.
Accordion Content
For the sake of the health and comfort of all patients, there are restrictions in ward areas:
Flowers are restricted in some wards and units. Please check with nursing staff and let friends and relatives know if this applies to your area
Due to risk of infection, no potted plants are allowed in patient wards
Latex balloons are prohibited in all wards of the hospital
Accordion Content
All Illawarra Shoalhaven Local Health District hospitals and health facilities are smoke free, this means that patients, visitors and staff are not allowed to smoke inside any buildings or within the surrounding hospital grounds and car parks. 
If you smoke your doctor or nurse can give you nicotine replacement products to keep you more comfortable while you are in hospital.
If you want to know more about quitting or reducing your smoking ask your GP or call the Quitline, 13 7848 (13 QUIT).  
Patients and visitors are reminded that drinking alcohol is not allowed on Illawarra Shoalhaven Local Health District premises. For more information speak to your nurse or doctor.
Accordion Content
You may be asked if students or health employees in training can be present while you are receiving care or treatment. This practice contributes to the development of professional skills. You may also be asked to participate in medical research. You have the right to say no to these requests. Your decision will not be put in your records and will have no bearing on your treatment or access to services in the future.
Accordion Content
The Patient Transport Service (PTS) is available to transport patients for admission to other facilities and for investigations, at no cost.
Accordion Content
Did you know every time a patient uses their private health insurance when being admitted to one of our hospitals, it helps our hospital bolster the services we can provide and also helps the hospital to purchase additional equipment?
You may have private health insurance that you would like to use while you are in hospital. You have the right to use public services as a public or private patient.
Click here for more details on using private health insurance during your stay in hospital.