Illawarra Baby & Child Loss Support information bags for local families at Wollongong Hospital
13 August 2020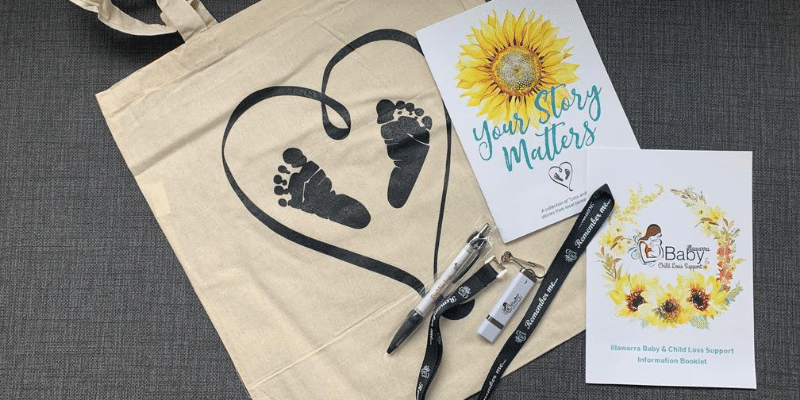 Amanda and Siria from Illawarra Baby and Child Loss Support (IBCLS) visited Wollongong Hospital's Birthing Unit this week to deliver information bags for bereaved families. Wollongong Hospital Maternity Operations Manager Barb Atkins and Wollongong Hospital Midwifery Unit Manager Karen Atkin were honoured to accept the bags from the group.
"The hospital is fortunate to work together with IBCLS in a range of ways that aim to help and support local families. The group provided invaluable input during the redevelopment of the Wollongong Hospital Birthing Unit and this latest project, to develop these bags, is just another way IBCLS is making a difference," Barb said.
The bags each contain the following:
USB drive for the hospital to place any photos taken and for families to keep photos safe until they get home
Pen that doubles as a business card with the support group's contact details
Brochure including how to connect with the Group, the services they offer and their fundraising efforts
The Group's stories booklet – a collection of loss stories from families in the Illawarra to hopefully show people they are not alone.  
Illawarra Baby and Child Loss Support spoke about the development of the bags and what it means to provide them for local families.
"It is a momentous day being able to get to this point in gifting these information bags to the Hospital. We have worked hard over the past year or so to get them ready and they are the vision of our working committee to provide the hospital updated information that can be given to bereaved families to let them know we exist for support.
We thank the hospital for the opportunity and of course the staff, in particular Barb and Fiona, who have worked with us, as well as all the families that have donated to our group's fundraisers to help support the ongoing work we hope to achieve," the Group said.
Friday, 14 August is Red Nose Day, the annual awareness and fundraising campaign raising money for research, education and bereavement services to support Australian families. Every dollar raised on Red Nose Day helps provide lifesaving education and advice for new and expectant parents, and 24/7 grief support for families devastated by the sudden and unexpected death of their baby or child.
About Illawarra Baby and Child Loss Support
Illawarra Baby & Child Loss Support is a support group for families in the greater Illawarra area who have lost a baby or young child for any reason.  IBCLS is affiliated with Red Nose Grief & Loss NSW and have been supporting Illawarra families through grief and loss for over 18 years.  Everyone at IBCLS has experienced the loss of their child and they understand that the sudden or unexpected death of a baby or young child is one of the most difficult experiences any person will face.  The one thing that they have learned over the years is that connecting and being supported by others who have also experienced a similar loss is extremely helpful and healing.
Due to COVID the group's activities are a little different at the moment, however they are always available for support. If you have lost a baby or child and would like support, you can contact the group as follows:
Facebook: Message the group through: @remembermeillawarra