World-first clinical trial for blood cancer underway in the Illawarra
20 July 2023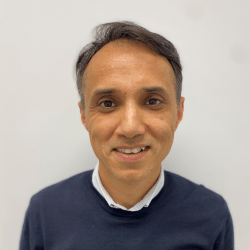 Dr Gurdeep Parmar
The Illawarra Shoalhaven Local Health District (ISLHD) Cancer Clinical Trials Unit is celebrating a world-first achievement, following treatment of the first patient under a new clinical trial for adults with multiple myeloma.
Myeloma is a type of blood or haematological cancer that starts in white blood cells known as plasma cells. It is also known as multiple myeloma because it usually affects multiple areas of the body.
Led locally by haematologist Dr Gurdeep Parmar and the Haematology Trials Team at Wollongong Hospital, this world first clinical trial in patients is studying whether a new immunotherapy drug is successful in treating multiple myeloma.
"This study is testing a completely new class of drug for myeloma and providing a new treatment option for people whose previous treatments have not worked or their disease has come back," Dr Parmar said.
Wollongong Hospital is currently one of just two sites in the world set up to deliver this clinical trial, with the second located in Victoria. Last month, the Wollongong Hospital team began treating a local patient with multiple myeloma, who was the first person in the world to be treated under this clinical trial.
"We are extremely excited to be the first hospital in the world to treat a multiple myeloma patient with this type of immunotherapy drug," Dr Parmar said.
ISLHD Director of Clinical and Laboratory Haematology, Professor Peter Presgrave outlined the significance of this milestone for the District and local community.
"The ISLHD Cancer Clinical Trial Unit continues to expand and grow, providing the local community with greater access to innovative treatments closer to home - that are not yet available on the market," Professor Presgrave said.
"The Unit's involvement in this trial for patients is an enormous achievement for the District and is a testament to the level of expertise and high-quality research being made available locally to patients," Professor Presgrave said.
For information about available clinical trials, people should speak with their GP or specialist. You can also visit the Cancer Clinical Trials section of our website or email: ISLHD-CancerClinicalTrials@health.nsw.gov.au