Vaccine rollout begins at Wollongong Hospital Vaccination Hub
15 March 2021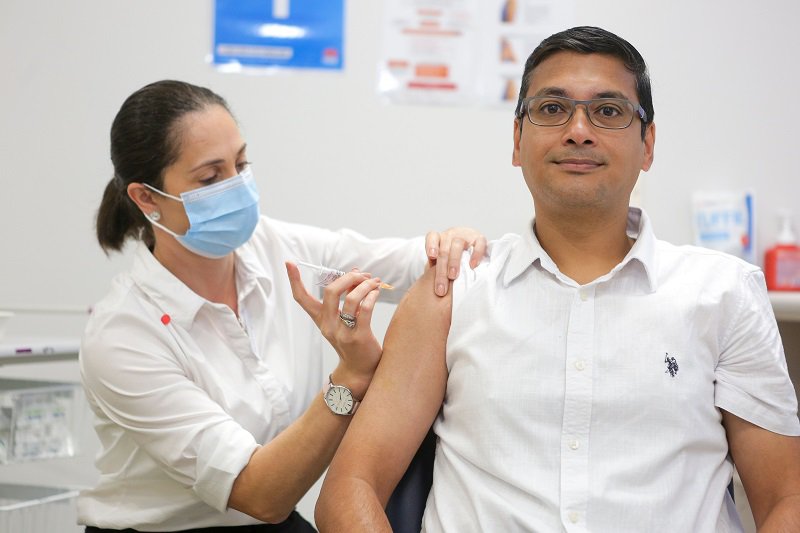 Pictured above: ISLHD Infectious Diseases Specialist, Dr Niladri Ghosh was the first person to receive the vaccine in the Wollongong Hospital Hub.
Monday, 15 March: Local nurse immunisers have commenced the COVID-19 vaccination roll out in the Illawarra Shoalhaven Local Health District, with frontline staff receiving the Pfizer vaccine at Wollongong Hospital's Vaccination Hub, which officially opened this morning.  
The Wollongong Hub is one of the latest hospitals in NSW set up to provide vaccinations to health and other staff as part of the vaccine rollout. 
ISLHD Infectious Diseases Specialist, Dr Niladri Ghosh was the first person to receive the vaccine in the Wollongong Hospital Hub.   
He said receiving the vaccine was a significant moment for him, both personally and professionally, having been involved with the pandemic response from the very start.  
"I treated the first confirmed COVID-19 patients admitted to Wollongong Hospital last year and saw firsthand the impacts of this pandemic. I am so excited to now see the vaccination being rolled out in Australia as it's such an important step in stopping the transmission of COVID-19.  
"I feel very privileged to have received the vaccine today and I strongly encourage everyone to have it when it's their turn," Dr Ghosh said.
Wollongong Hospital Security Staff member, David Nichols also received one of the first doses of the vaccine at the new hub this morning.  
"I'm really appreciative to receive the vaccine today and do my part to protect my family, the people I work with, and the community. I'm around a lot of different people every day and having the vaccine gives me extra assurance that I'm going to be keeping myself and others safe," Mr Nichols said.  
ISLHD Executive Director Nursing & Midwifery and Clinical Governance, Deborah Cameron said opening the hub was an exciting milestone for the District.  
"The establishment of the Wollongong Hospital Vaccination hub means that we're now able to provide those with the greatest risks of potential exposure to COVID-19 access to the vaccine as close to their homes as possible. It's wonderful to see our staff get vaccinated and further protect themselves from the virus," Ms Cameron said. 
"I'd like to thank the staff for their ongoing efforts and also thank everyone who has been involved in the planning and set up of the clinic," she said.  
The Wollongong Hospital vaccination hub will also provide support to satellite locations at Shellharbour, Shoalhaven and Milton Ulladulla Hospitals in the coming weeks, as well as a number of sites in Southern NSW.    
NSW is working closely with the Australian Government to implement a safe and effective COVID-19 vaccination program. For more information about COVID-19 vaccination in NSW, visit the NSW Health website.