Wollongong Hospital Birthing Unit Upgrade on track for completion
30 April 2020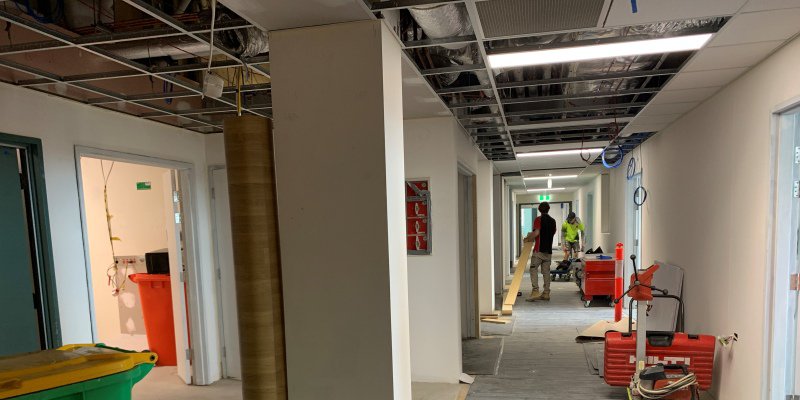 Works to upgrade Wollongong Hospital's Birthing Unit are on track to be completed over the next month, and it's anticipated the first babies will be born in the new space from mid to late-June.
The $2.2 million upgrade will provide a more modern, functional and welcoming birthing space for local women and families.
The works have progressed to schedule despite the need to adhere to strict social distancing requirements and operational changes due to COVID-19. The District identified the project as essential to continue in order to minimise any further disruption to the women and families due to give birth at Wollongong Hospital.
The new birthing unit will include remodelled assessment areas and bathrooms to better support modern birthing standards. Waiting areas will be enhanced to facilitate an improved flow through the unit and the colour scheme will be inspired by nature to provide a more calming setting.
Specialised maternity baths are being installed in two of the birthing suites, while a third room has a standard bath. Customised furniture has been purchased to complement the new space.
In January, the birthing unit was relocated to a temporary space in order to allow birthing services to continue at Wollongong while the redevelopment work is undertaken. The temporary space is a former intensive care unit that has been fully refurbished to accommodate birthing with the safety of women and babies our highest priority.
Feedback about the temporary birthing unit has been overwhelmingly positive, and we would like to thank the women and their families who have birthed during this time for their cooperation and feedback. We are pleased we've been able to deliver the same safe, quality service in this new space. 
Whilst the decision to relocate a service is never easy, the refurbishment will offer significant benefits to women and families, as well as hospital staff, for years to come.
The Hospital has worked closely with consumer and community groups, such as Better Births Illawarra, Aboriginal and Torres Strait Islander communities, and the Illawarra Baby and Child Loss Support Group, to ensure local women and the wider community have had input into the new design.
More information about the project and the temporary birthing unit can be found here.