The Public Health Unit acknowledges the traditional custodians of the land. We support and respect the survival of this proud culture and are committed to improving Aboriginal and Torres Strait Islander Health. We would like to pay our respect to Elders of the past, present and future generations and extend that respect to all Indigenous Australians. 
Immunisation Artwork Acknowledgement
We would like to thank Aunty Loraine Brown, Aunty Narelle Thomas and year 7 students from The Coomaditchie Aboriginal High School Program for the artwork featured in the banner of this webpage.
Aunty Cecilly Wellington-Carpenter and year 7 Aboriginal students from Ulladulla High School for their artwork contributions.
Sharp Art Project
The Sharp Art project was implemented through the Public Health Unit Immunisation team, specifically through the Aboriginal Immunisation worker Tania.
The project was designed to incorporate Aboriginal students via an expression of interest to the local schools and High School programs run in the local Aboriginal community. In particular Coomaditchie and Ulladulla High School.
Aunty Loraine Brown and Aunty Narelle Thomas supported the Coomaditchie students in creating an exceptional piece of artwork and Aunty Cecilly Wellington-Carpenter supported the Ulladulla High School students in developing their inspiring artwork.
The objective for the students and the artists was to create an artwork that reflects the Aboriginal story of immunisation from beginning to end of life.
Below is the final artwork designed by the students and Artists. 
Coomaditchie Artwork - select the image to view the story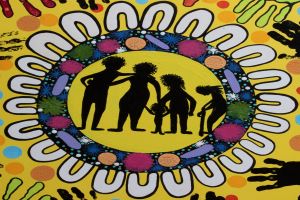 Ulladulla High School Artwork - select the image to view the story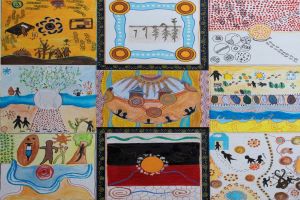 A word from Tania
My name is Tania Simpson I am a proud Wodi Wodi girl. I have lived in the Illawarra all my life. My family are traditional owners of the land that I live and work on.
The Illawarra and Shoalhaven Public Health Unit is committed to improving timely vaccination in Aboriginal and Torres Strait Islander children. Immunisation is a simple, effective way to prevent vaccine preventable diseases in Aboriginal communities.
I have worked in the Public Health Unit as the Aboriginal Immunisation Worker for the past 5 years. I have previously worked as a senior practice nurse at the Illawarra Aboriginal Medical Service and as a nurse in both private practice and hospital settings.
In my current role I am working with local Aboriginal people and families to increase vaccination coverage by:
Working with Aboriginal people and services, such as child care centres, to promote the importance of timely vaccination.
Provide culturally appropriate education to Aboriginal children and adults on the benefits of vaccination.
Collaborate with Aboriginal Medical Services', community health centres and other services to integrate immunisation into routine health delivery
Review the Australian Immunisation Register to identify, and remind parents of Aboriginal children who are scheduled for vaccination. Ensure the Australian Immunisation Register is up to date with accurate immunisation information for all Aboriginal children.
Identify local barriers to immunisation and consult with Aboriginal community members to develop appropriate responses.
Promoting the importance of immunisation through community engagement.
I can be contacted at the Public Health Unit Monday to Friday from 8.30am-5.00pm on Ph:4221 6700 or by email: tanya.simpson@health.nsw.gov.au
Did you know....
Aboriginal and Torres Strait Islander people are able to get extra vaccines for free through the National Immunisation Program (NIP). These extra vaccinations are to protect you against serious disease. They are in addition to other recommended immunisations for each age group.
https://www.health.gov.au/health-topics/immunisation/immunisation-throughout-life/immunisation-for-aboriginal-and-torres-strait-islander-people
Whatchya Gunna Do (Video)
This video has been produced to raise awareness about the importance of immunisation for Aboriginal adolescents and their parents:
Get the facts - protect your mob
This video explains why getting vaccinations on time is really important for protecting your bub and the community: