"Perioperative nursing is such a rewarding profession. It's a great career, as you get to develop lots of new skills, and experience something new every day. I feel really lucky to be working with such a skilled team of nurses and surgeons." 
Chloe Thompson, Registered Nurse
Post Anaesthesia Care Unit, Wollongong Hospital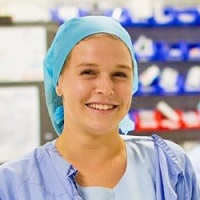 Illawarra Shoalhaven Local Health District (ISLHD) gives Perioperative Nurses a wide range of opportunities and experiences. You can gain valuable skills and experience in the variety of surgical fields available at ISLHD:
Ear, Nose & Throat (ENT)
General Surgery
Neurosurgery
Obstetrics & Gynaecology
Ophthalmology

Orthopaedics
Plastics
Trauma
Urology
Vascular
There are also a wide variety of perioperative specialist nursing roles - all of which work together as an inter-disciplinary team with the aim of applying best practice and achieving optimal patient outcomes.  
Some of these specialist roles include:
Accordion Content
Become the patient advocate before their surgery. Thoroughly assess their needs and communicate this to the surgical team, to ensure an optimal patient outcome.
Also educate the patient about their surgery and rehabilitation so that they are better informed and well-prepared.
Accordion Content
Provide the primary support to the patient and the Anaesthetist throughout the anaesthetic process. With the Anaesthetist's supervision, you will ensure the safety of the patient during the course of the anaesthetic by monitoring:
the patient's status
surgical equipment
pharmacological management
and communicating with the perioperative team.
Accordion Content
Ensure that the items needed to achieve the best outcome for the patient are delivered aseptically onto the surgical field.
Continuously monitor the theatre environment, and manage associated risks to ensure patient safety. Other activities can include: patient positioning, documenting accountable items, collecting specimens, confirming consent and managing equipment.
Accordion Content
You assume primary responsibility for all items used within the surgical field. After assessing the surgical team's requirements, you provide sterile supplies and equipment required for each procedure.
It is also your responsibility to remain vigilant throughout the procedures in order to recognise intraoperative complications or changes in the patient's condition, and be ready to respond promptly.
Accordion Content
The PACU nurse provides holistic care for patients immediately following an anaesthetic, surgery or procedure. Following a comprehensive handover from the surgical team, the PACU nurse monitors the patient until they are ready to be discharged to the next phase in their perioperative journey.
Accordion Content
Through your postgraduate studies you have acquired the knowledge and skills necessary to competently perform the role of assistant to the surgeon. You provide extended perioperative nursing care before, during and after surgery.
Accordion Content
Once you are educated at Masters Level, and endorsed by the Nurses and Midwives Board of Australia (NMBA), you can apply to become a Nurse Practitioner. You provide quality and skilled patient care in your clinical specialty.
Accordion Content
Add to the quality of perioperative nursing at your hospital, and beyond, through other key roles. These can include Perioperative Nurse Educators and Researchers.
Accordion Content
ISLHD has opportunities for you – wherever you are in your Nursing career journey. Whether you are interested in entering the profession, or are an Enrolled or Registered Nurse or Nurse Practitioner, we have career and learning opportunities for you.
For more information on Nursing Careers and job vacancies, visit the NSW Government Health website.
Accordion Content
These websites have a lot of valuable information about events, education, conferences, resources, and standards:
| | |
| --- | --- |
| ACORN  | ACORN is the Australian College of Perioperative Nurses, and is Australia's peak body of perioperative nursing. |
| NSW Operating Theatre Association (OTA) | OTA provides resources and education to assist Perioperative Nurses in their daily jobs, and career paths. |